The need of money is unavoidable. At some point in life, we all face the urgency of money. If it is not arranged from our closed ones, then we choose the loan option. In our blog, we only review the RBI registered finance loan app. If you need a personal loan from any loan app within 30 minutes, then we are introducing you to an amazing loan app. It is True Balance app. True balance is NBFC registered under RBI. In this article, you will get knowledge about features of the true balance app, interest rate, processing fees. You will also get to know how to apply for loan in the true balance app.
Feature of true balance app.
👉 This app is 100% safe and secure and RBI registered entity. It has 75 million-plus users.
👉 True balance app is a fast, simple, and seamless app. You can apply for loan only in 5 simple steps.
👉 All your information is protected. It prevents any unauthorized use and follows every protocol of RBI.
👉 The loan is 100% paperless and digital process.
👉 You can access this app 24×7 to get instant loans. It has low processing fees, longer repayment tenure, and an attractive interest rate.
👉 Repaying on time improves your credit score and you get the benefit of access to higher amounts.
What is the interest rate in the true balance loan?
If you take a personal loan from the true balance, then you will be charged at the interest of 5% to 9%. It depends on your final loan amount.
What is the processing fee of the true balance app?
The processing fee is 5%.
How to apply for loan in the true balance loan app?
Step by step process is given below.
App installation
👉 Go to the official app of true balance here . Download the app and install. Your mobile number will be asked. Enter your mobile number and verify with otp. Create a password. Password should be 8-16 characters long.
👉 In the next step true balance will ask permission of access of contacts, location, phone, sms, camera. You have to agree it to move next step. So click on Agree and Continue.
Type of Loans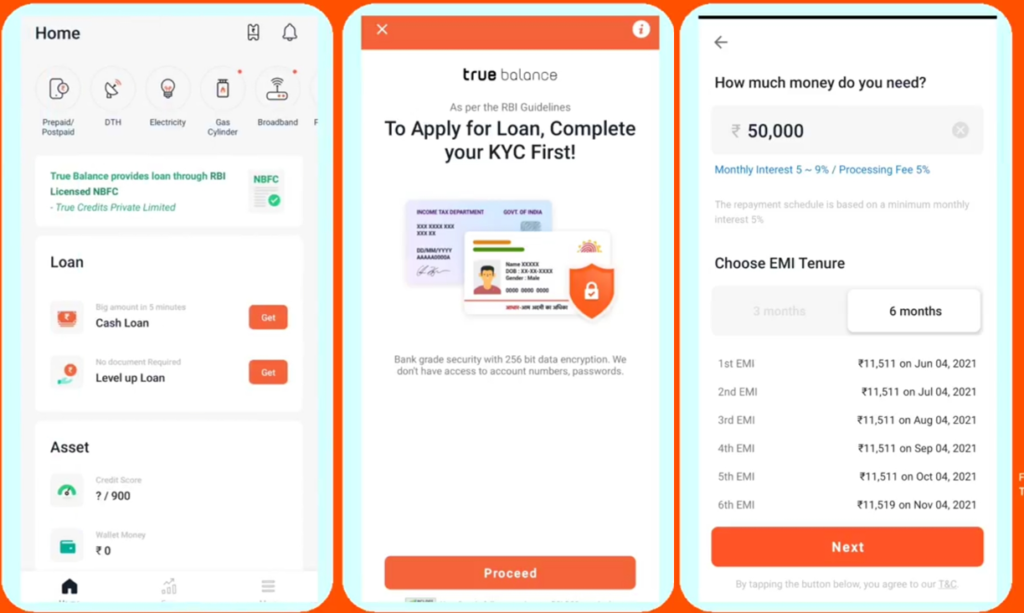 Then you will see this type of interface. There are two options like cash loan and Level up loan. At first, apply for the cash loan. If your loan will be rejected for any reason then go to level up loan.
Apply cash loan in true balance app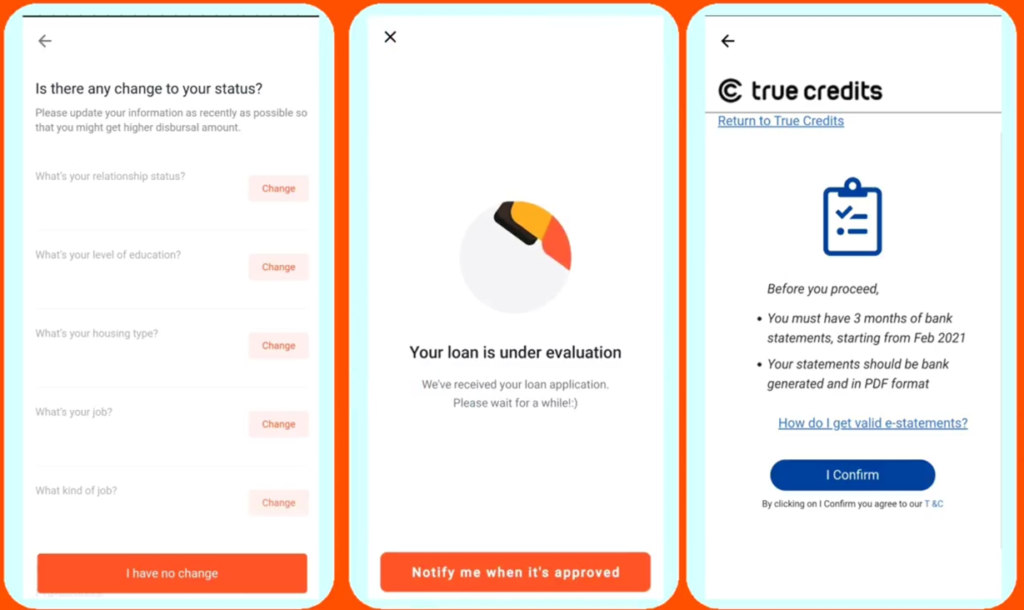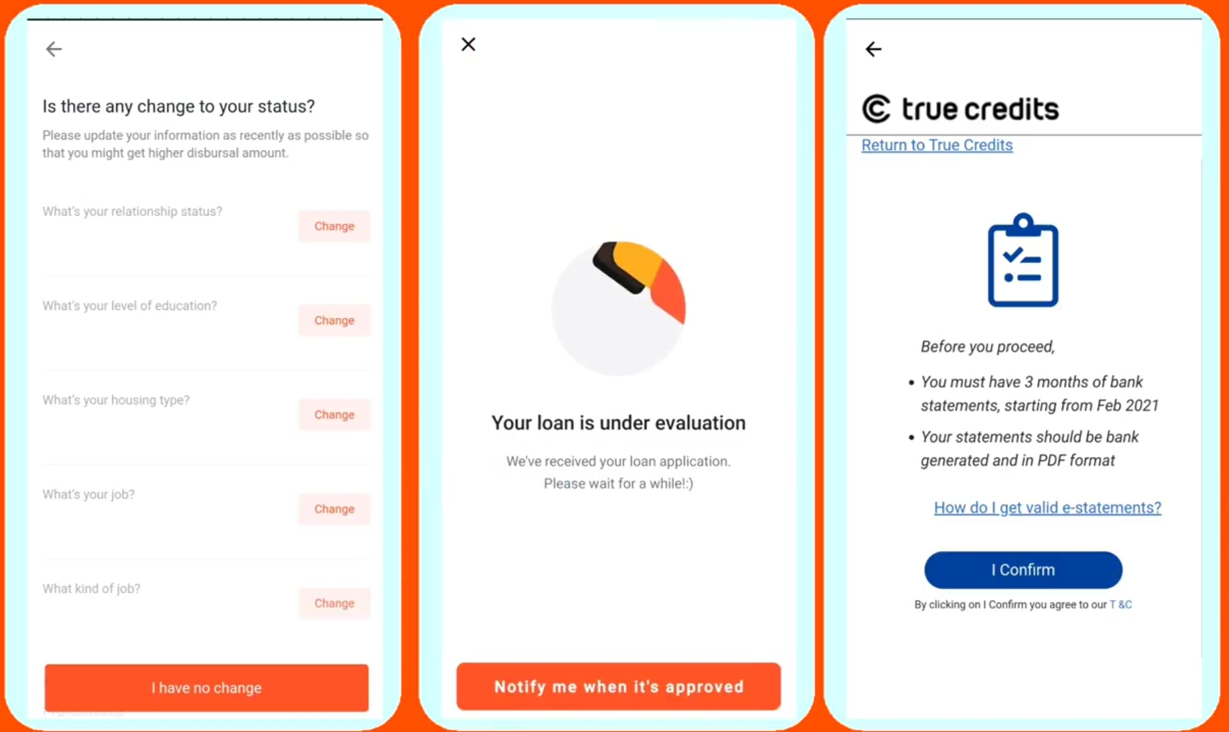 👉 In cash loan, click on get.
👉 To apply loan you should complete you KYC first. E-KYC can be done by your adhar card or pan card.
👉 True balance offers upto Rs 50000 loan. It will depend on your account statement.
👉 There are two types of EMI tenure as 3 months and 6 months. Monthly installment amount will be shown tp you. Select the tenure as per your ability to repay. If you are able to pay this amount then click on next.
👉 Give the right details about your personal and working information. This is the important step. Your final aproved ammount depends on this step. After fillng click next.
👉 In this step your loan will be evaluated. It takes 3-7 minutes.
👉 After evaluation,you have to upload your bank statement. Download your 3 months e-statement and upload it.
👉 After verifying your loan ammount will be disbursed in your account.
👉 Incase you don't fulfil eligibility, and your cash loan is cancelled, then don't worry. You can get levelup loan.
Apply Level up loan in true balance app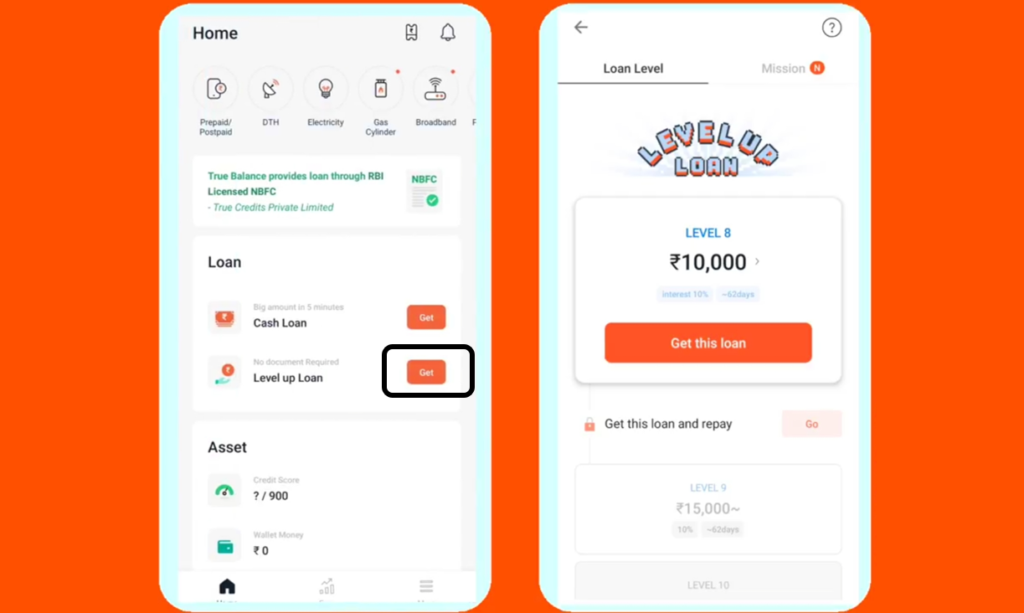 If you are a salaried employee, you will surely get cash loan, but some of the self-employed applicants get rejected. So click on get side to level up loan. You can get up to Rs. 10000 loan easily but your repayment period will be short like 2 -3 months.
After completing all steps true balance disburses loan amount in your bank account within only 30 minutes.
Faqs.
What is the true balance customer care number?


What is repay later option in true balance?

If you are unable to pay the installment on due time, you can choose to repay later option. This options lets you pay part of the loan on the due date and extend the repayment term to multiple terms.

Is true balance trusted app?

Yes, true balance is registered with NBFC as True Credits Pvt limited under RBI guidelines. It is a trusted app.
Hope this article will help you to get a loan easily from the true balance app. Keep visiting OdishaLoan.com for such loan application reviews. Repaying on time is a good practice. Only take loans, if you are able to repay on time.
Get Instant loan from Buddy loans
Get instant personal loan from Mudrakwik
Instant personal loan from Money View
Signing off
Team Odisha Loan.