This blog post is about cred cash review. During an emergency, we don't have enough time to submit documents. A Cred cash loan will help you instantly. All you know is Cred is an amazing app. You get awards for paying your credit card bills through Cred. It has now more than 7.5 million users.
If you use Cred, you will never miss your bill due date. The most important factor is security. All your personal data and transactions are secure with Cred.
Now we will discuss here Cred cash. Cred Cash is a type of personal loan. The attractive thing about Cred cash is you do not have to submit any document to get this loan. Now you must have queries about, What is the benefit of cred cash? What is the eligibility to get cred cash? What is the interest rate? and If there are any hidden charges or not? To solve all your query read this blog post till the end, you will get answers one by one.
Install the App to apply Cred Cash loan
Install cred app from the play store and open an account. Use this app for paying your credit card bills. After opening the app, you will get an interface like this.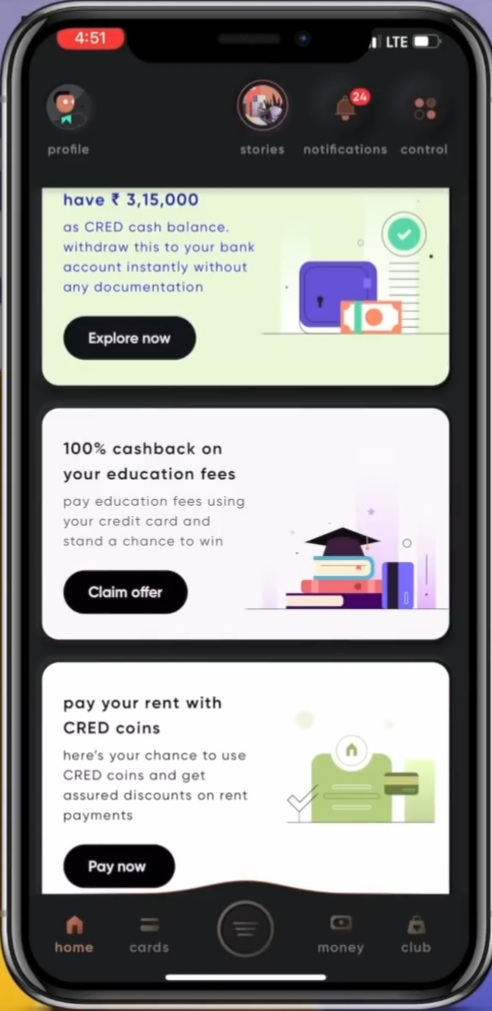 How to apply Cred Cash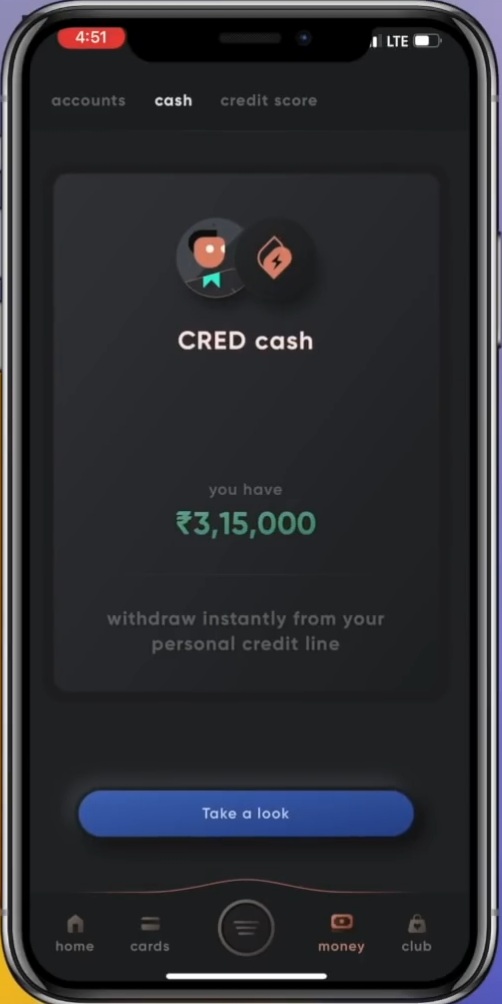 In the bellow bar of the app, there is an option named "money". Click on that. Three options (Account, Cash, and Credit Score) will be slid like this. Go to the cred cash option.
Here I am offered Rs.315000 loan amount. It is different for different users. It depends on your credit score or cred app usage. To apply for this loan no documents will be required. Click on "Take a look" to proceed to the next step.
You will get a slider like this to choose your loan amount. Here in my case, the eligible amount is Rs. 315000. It may be different in your case. You can apply for loan within your maximum eligible amount. Never take any loan more than required. The eligible cash shown to you is the maximum cred cash you can get. Choose your required loan amount accordingly. Now for an example let's choose Rs. 50000 cred cash. Then click on "Choose your EMI plan".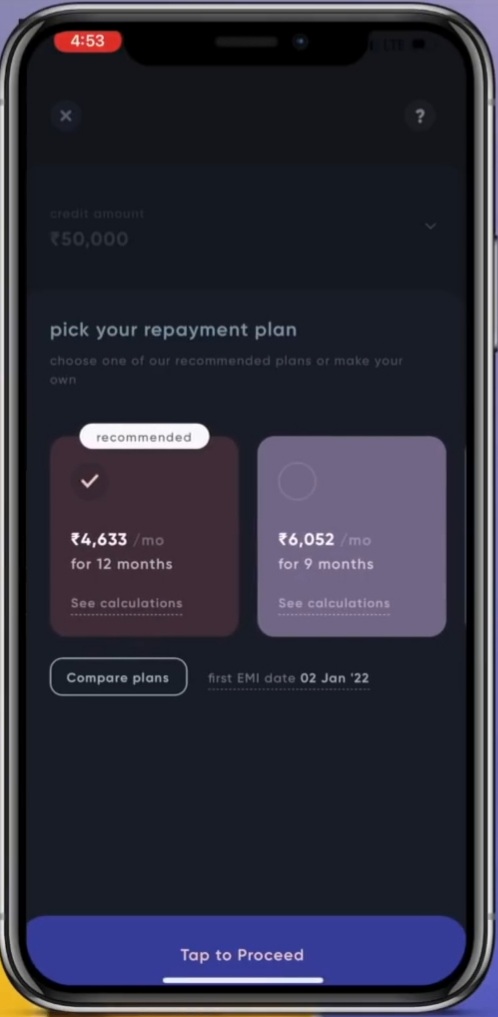 Now you can choose your EMI tenure from these three options 6 months, 9 months, and 12 months. For each selected tenure the installment amount will be shown up. As per your repayment flexibility, you can choose any EMI tenure. Then click to compare plans.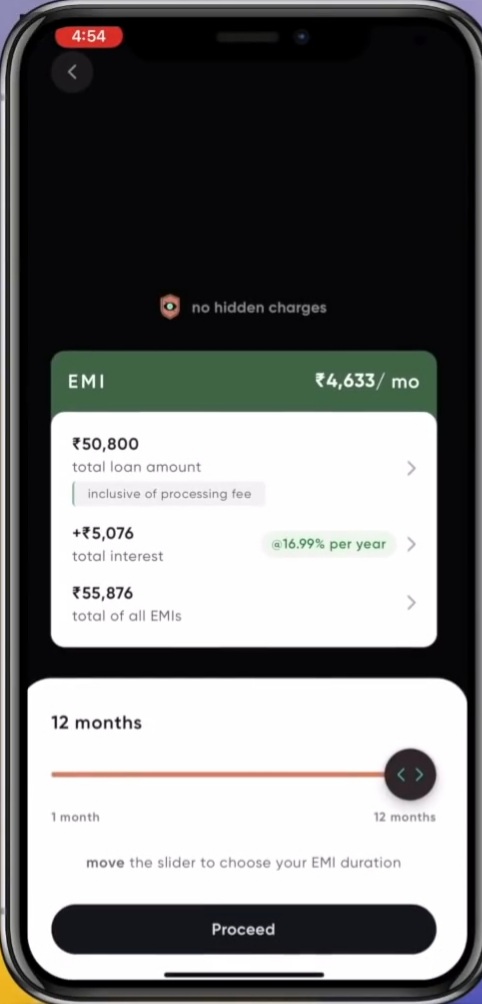 The plan details will be shown here. The plan detail includes the processing fee, the rate of interest, monthly EMI amount. Look at the bellow table for an Rs. 50000 Cred cash.
Also Read : Free EMI for 3 months
12 months Plan Detail of Rs. 50000 cred cash.
| Loan Amount | Rs. 50000 |
| --- | --- |
| Processing fee | Rs. 800 |
| Interest | Rs. 5076 |
| Total | Rs. 55876 |
| Monthly EMI for 12 months | Rs. 4633 |
The total amount of Rs. 55876 is to be paid for Rs. 50000 Cred cash loan including processing fee and interest. The processing fee is Rs.800. It is fixed irrespective of cred cash amount and EMI tenure. The rate of interest is 16.95%. Compared to the market rate, this interest rate is lower for any personal loan.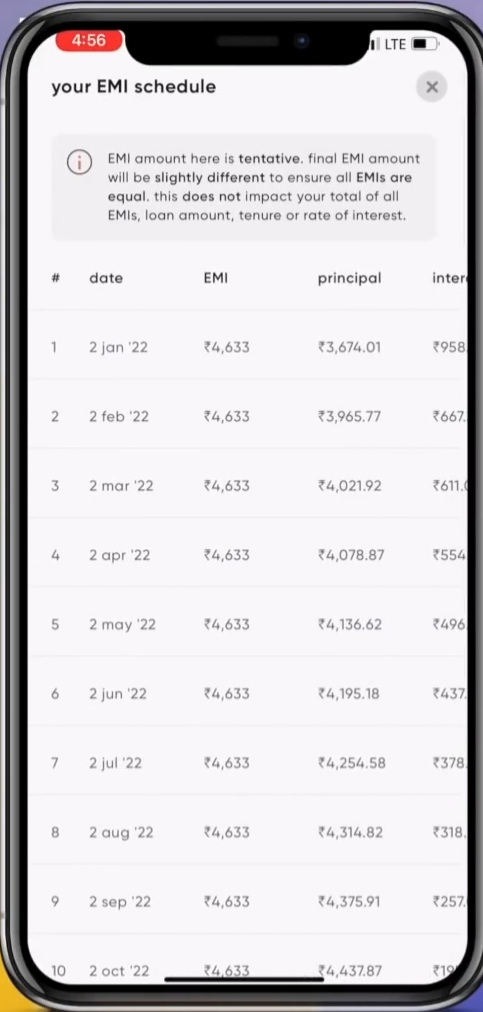 If you find the interest amount is more, then you can choose the EMI tenure of a lower duration. Your first and last EMI dates will also be shown to you. You can view your total EMI schedule also. It proves the transparency of the Cred cash.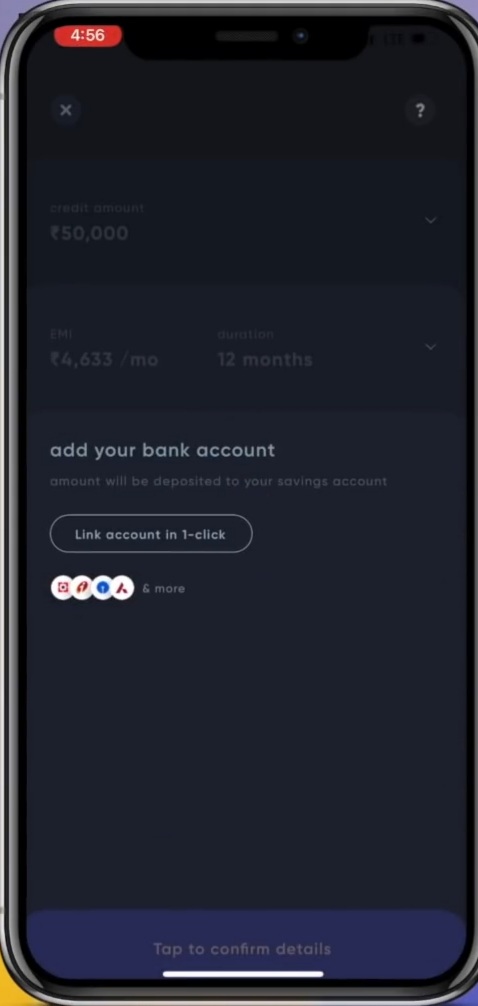 Check your every detail properly and click to proceed. You will be asked to enter your bank account. Then tap to confirm details. You will not be asked to upload any documents at all. Within 24 hours your cred cash will be in your bank account. The maximum time limit is 24 hours, but practically it is disbursed instantly in the bank account.
Is the Cred Cash option missing?
Cred cash is accessible only for cred members. If you are using cred for paying your bill, then you will get this option. In case the cred cash option is missing, you should use cred more and contact customer care for early access to cred cash.
Pros and Cons of Cred Cash Loan
Pros
The credit amount is preapproved.
Instant, paperless, and hassle-free system.
The friendly interface of the app makes it easy for users to navigate.
Lowest interest rate.
Flexible EMI structure.
There are no hidden charges.
The foreclosure charge is nil.
Cons
You should be a Cred member to access cred cash.
Conclusion
In my experience Cred cash is a trustworthy and transparent credit line service. The monthly EMI is deducted automatically on time. So there is no headache of being delayed to repay. Without any document submission, you can get loan instantly.
Take a personal loan if it is that much necessary and you are able to repay on time. Never take any loan for attractive offers.
FAQs
How to become a cred member?

Sign up on Cred with your name and mobile number. The only condition is you should have credit score of 750 or more.

What should be the credit score to join as Cred member?

Can I foreclose the cred loan? What is the penalty?

Yes, you can foreclose it and the charges is nil.