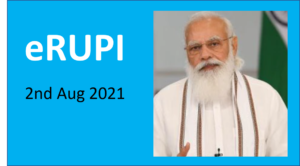 On 2nd August 2010, P.M. Narendra Modi has launched eRUPI. eRUPI is an innovative digital solution. It is an e-voucher payment system which is directly provided to the mobile of beneficiaries. To bring transparency in schemes provided by the government and helps provided by the organization, eRUPI is a perfect solution.
What is eRUPI?
Our govt has many schemes for needy people. Some beneficiaries get benefits for medical, some beneficiaries get benefits for education, some beneficiaries get benefits for home, etc. All these bits of help are provided as money to the beneficiaries accounts. Somewhere, not all beneficiaries utilize the benefits and spend the money in the wrong way. To prevent this and to make more transparency in the system, eRUPI has been developed.
This is a seamless one time payment mechanism and is available in the form of voucher. There will not be any card, digital payment app or internet banking access. The eRUPI will be available in the form of QR code. It will be provided to the beneficiaries for a specific purpose. Beneficiaries will share this code to the merchant to avail that specific benefit.
Let's see an example, if government announced a scheme to provide cycles to the school students. Then they will get their QR code of eRUPI in their mobile and they only can get cycle only after sharing that code to the specific merchants. So noone can misuse any schemes aur helps. If some one needs help for treatment, then many individual and organization step ahead to help. Now they can help with eRUPI voucher instead of cash. Now it can be ensured that the money will be used for the specific purpose for which it was given.
Benefits of eRUPI
It will bring transparency and integrity in transactions.
This is an end to end digital transaction system, so it helps in cost reduction.
Govt as well as other organisations can take advantages of this e voucher.
The redemption process is very quick, because the ammount is already pre booked.
The personal details of beneficiaries are private, so this is safe and secure.
Conclusion
The eRUPI is completely contactless and cashless. Comparing to other digital payments, this is very unique and easiest payment solution. eRUPI is not related to any application or mobile banking. Now we can proudly say that digital India is improving.
How to get eRUPI voucher?
eRUPI is a QR code or SMS based e-voucher. The e-voucher will be received in the mobile of beneficaries.