A rented home can never give the same satisfaction as own home. Own home is not only an asset, it's an emotion. Own a home is a dream for many people. People spend whole life earned money to provide a home to their children. Yes! Whole earned money! But don't worry. If you want to own a home, you will not have to wait your whole life to earn. Many banks are providing home loans in India. HDFC bank is one of them. Each bank has its own terms and condition. You must be wondering now if many banks are providing home loans, then why will I prefer HDFC bank home loans? In this post, all your doubts will be cleared.
In this blog, you will get to know, how to get a home loan from HDFC bank, its terms and condition, benefits, repayment period, rate of interest, types of HDFC home loans, and your eligibility.
Why you should take Home Loan from HDFC?
👉 There are certain benefits in HDFC home loan, which may not available in other bank home loans. After SBI, HDFC offers a low rate of interest for a home loan. If you are not eligible for SBI home loan due to any reason, you can prefer an HDFC home loan.
👉 If you are female, then it's a good choice to go with HDFC home loan. HDFC offers a concession of 0.05% in rate of interest for women borrowers.
👉 HDFC provides a flexible tenure upto 30 years.
👉 HDFC bank has a special arrangement with AGIF for home loans. AGIF stands for Army Group Insurance Fund. This facility is only for Indian Army employees.
👉 HDFC takes care for his customers. So it comes with different types of home loans to suit its customers' requirement.

HDFC home loan is available for resident of Indians.
HDFC plot loan is available for buying a new plot.
HDFC reach loan is available for Indians earning at least Rs. 10,000/- per month.

👉 HDFC also offers multiple repayment options to suit customer's need.
HDFC Home loan Eligibility
👉 To be eligible for HDFC home loan, your minimum age should be 21 years and maximum age should be 65 years.
👉 Any salaried, Self-employed or Agriculturists can be elible for HDFC home loans.

For salaried person, minimum income should be atleast Rs. 10000 per month.
Any self-employed person to be eligible, minimum income should be Rs. 2lakh per annum.
How much amount of Home Loan can you get?
Home loan amount mainly depends on income. To know your eligibility criteria, please visit the official link https://www.hdfc.com/home-loan-eligibility-calculator.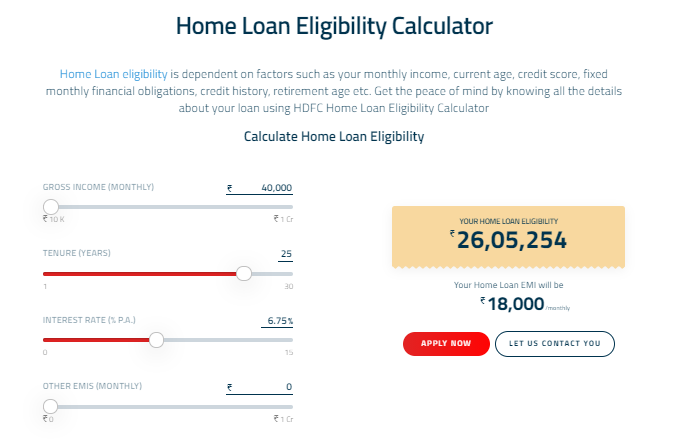 In the above calculator, enter your monthly gross income. Let suppose your monthly income is Rs.40,000. And you want to repay within 25 years. Then you are eligible for around Rs.26 lakh and the monthly installment would be Rs.18,000. Except for income, the loan amount also depends upon the CIBIL score. Other factors like age, qualification, family income, assets also play an important role to decide your loan amount.
Types HDFC bank home loans
HDFC provides the following home loans.
Plot puchase loan.
Balance transfer loan.
House Renovation loan.
Home Extension loan.
Top Up loan.
LAP (Loan Against Property).
Documents required for HDFC home loan
The home loan gets approved only after verifying the required documents. Most common documents are required to prove your identity, resident, and income.
Identity and Resident Proof
To prove your identity you can submit Adhar card, pan card, Identity card issued by govt, etc.
You have to submit the Electricity bill/telephone bill/resident certificate issued by the Tehsil office to prove your address.
You will need documents to prove your age also.
Income Proof
Till now you know that HDFC offers home loan not only to salaried and self-employed persons but also Agriculturist. So the income proof documents are different for these three categories.
For Salaried persons:
Latest salary slip.
Form 16
For Self-employed persons:
Educational qualification certificate and proof of buisness.
Previous 3 years profit and loss balance sheet.
For Agriculturist:
Copies of Title document of agricutual land depicting land holding.
Copies of title documents of agricultural land depicting crops being cultivated.
Other required documents
Bank will also require a copy of allotment letter or buyer agreement if you are buying a new home. If you are constructing a new home then the bank will require Title deeds of the plot, proof of no encumbrances on the property, a copy of the plans approved by the local authorities, and a construction estimate by an architect or civil engineer. For resale of home, the bank will require receipt of the initial payment made to the seller and copy of the agreement to sell.
How to apply HDFC home loan?
You can apply for HDFC home loan both online and offline.
Online method
For applying online visit the official link https://portal.hdfc.com/.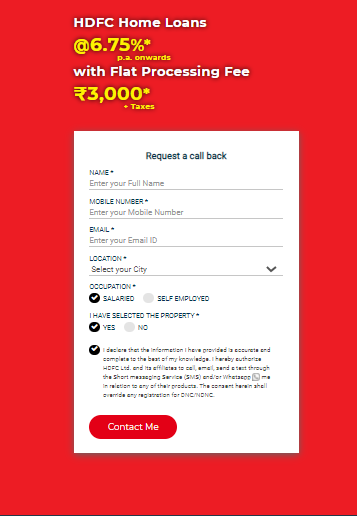 Check your eligibility.
Apply in the given link.
After one or two days you will get a messege on your registered mobile nume and will get a call fron HDFC housing bank.
They will redirect you to get the loan soon.
Offline Method
To apply offline, visit your nearest branch of HDFC bank.
There will be staff specifically for loan, who will share every details of their scheme with you.
Then they will provide a form to fill up. Fill the form and submit it.
Then you have to submit copy of required documents as well as original copies. They will return your original documents after verifying with duplicate ones.
After verification your loan ammount will be disbursed in your bank acccount.
We hope, your many doubts regarding home loans are cleared now. If you have still any doubts, please comment below. We are happy to help you. All the best for your dream house.
FAQs
What is the rate of interest of HDFC home loan?

Currently, HDFC offers home loans at 6.75% per annum onwards.
This is subject to change from time to time. So check the official website.

What is the processing fee of HDFC home loan?

The processing fee for a salaried person is 0.5% of the loan amount or flat Rs. 3000 plus taxes. If 0.5% of your loan amount is below Rs 3000, then flat Rs. 3000 will be the processing fees.
For the self-employed, it is 1.5% of the loan amount or minimum Rs. 4500 plus taxes.

These are subject to change from time to time. So check the official website.
Signing off
Team OdishaLoan.com 🙂